Whether your small business, corporation or nonprofit is looking for a venue for a client meet & greet or somewhere to celebrate another year of success, learn why Farmer and Frenchman Winery & Cafe is one of the premier corporate event and retreat locations in the Midwest!
Beautiful Scenery and Presentation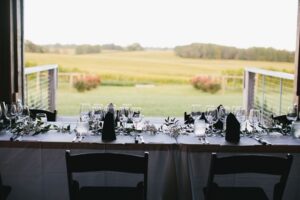 We love meeting guests from around the Midwest and beyond that are so happy they had the opportunity to visit or stay with us. If you've browsed our Instagram or Facebook, you'll know that our 72-acre property offers beautiful views year round. From our lush vineyards in the early fall to the tranquil snow fields in the midst of the colder months, you'll never struggle to find a beautiful backdrop for your meeting. The views continue inside; enjoy the rustic bar, beautifully-plated food and stunning artwork by talented local artist Jonathan Hittner while overlooking the countryside.
"Had an amazing experience. We are from 6 1/2 hours away and we recommend to anyone! Food, wait staff, owners, and the wine – incredible! So glad we stopped here! The view is absolutely breathtaking."
We always strive to enhance the appearance of our venue, especially in ways that compliment both the natural views and unique architecture that is present. Your clients will fall in love with our presentation, and they'll definitely be in store for an unforgettable meeting. Just like our owners say, Farmer and Frenchman is easy to find, but hard to leave.
Accommodating Venue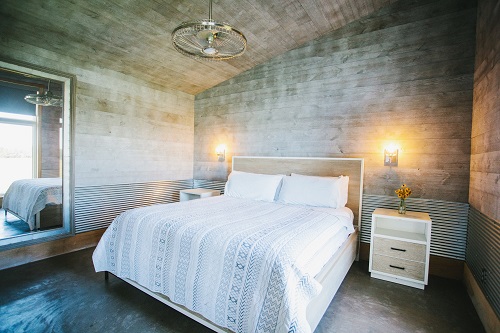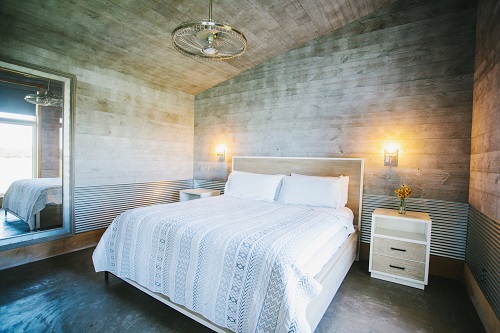 If you're thinking of bringing your next team outing or client meeting to Farmer and Frenchman Winery, we would love to have you for a day, evening, or longer stay.
Our three solar-powered cabins offer a comfortable overnight space for guests who would like to extend their stay. These rooms are great options for lodging your team following an event or for putting up out-of-town executives in the nicest accommodations in the tri-state. You may also take advantage of room and wellness services, appliances, a private patio, heated floors, and more. Learn more and see photos of our modern cabins!
Farmer and Frenchman is no stranger to large-scale events; aside from being a premier corporate and team retreat destination, we are also host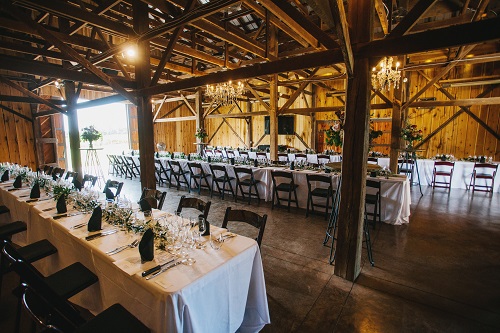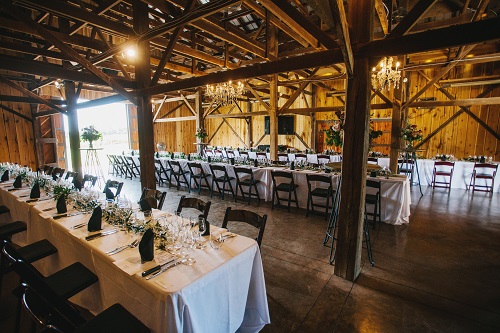 to weddings, private lunches and dinners, baby and wedding showers, birthday parties, reunions, and more. Along with our primary dining and tasting room room, our venue features three large spaces, including the Tobacco Barn, Promenade, and Vineyard Lawn for groups large and small.
The beautiful Tobacco Barn features an 1,800 square foot space with stained concrete floors, three crystal chandeliers, running water and electricity, and heating and air conditioning for your comfort. This space sits up to 170 people, although the Promenade and Vineyard Lawn are often paired together for larger events. Including these spaces, our capacity is around 400 guests with a variety of catering and bar service setups. If you're interested in seeing more, view our floor plan.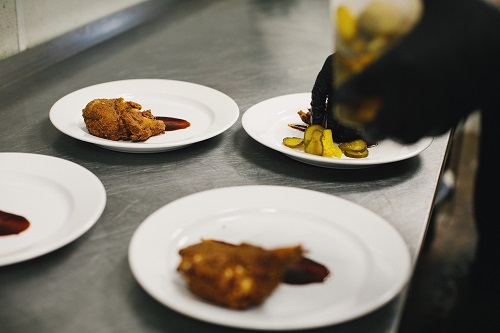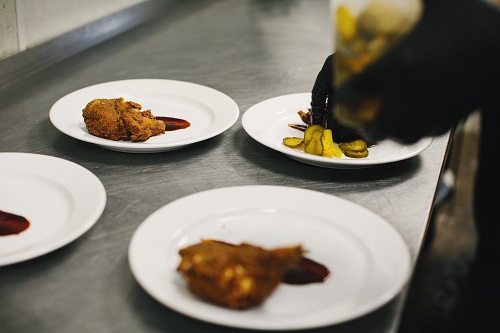 European Fare with Southern Flair
There's no denying that our unique menu of European-inspired foods is one of the top draws of Farmer and Frenchman Winery.
Our menu acts as a natural link to our vineyard, as most of our menu offerings feature locally grown produce to create a vineyard-to-table fare. Our menu is seasonal and reflects the availability of our vineyard garden and our farming partners' agricultural offerings.

"If I could give it 6 stars I would. This place is amazing! The food, the service, the wine…everything! If you haven't been here yet, make a reservation soon. They will not disappoint."
F&F features a wide assortment of wines from around the world specially selected, and of course our own unique line of wines. There is also a substantial beer and spirit list for your guests who prefer those options. You can view our lunch and dinner menus online, and don't miss our dessert options!
We would love to host your next business meeting, company retreat, or client introduction! Contact us to schedule a tour for your next event with Farmer and Frenchman Winery!
To book events: email katy@farmerandfrenchman or 270-577-8837
For cafe reservations: call 270-748-1856