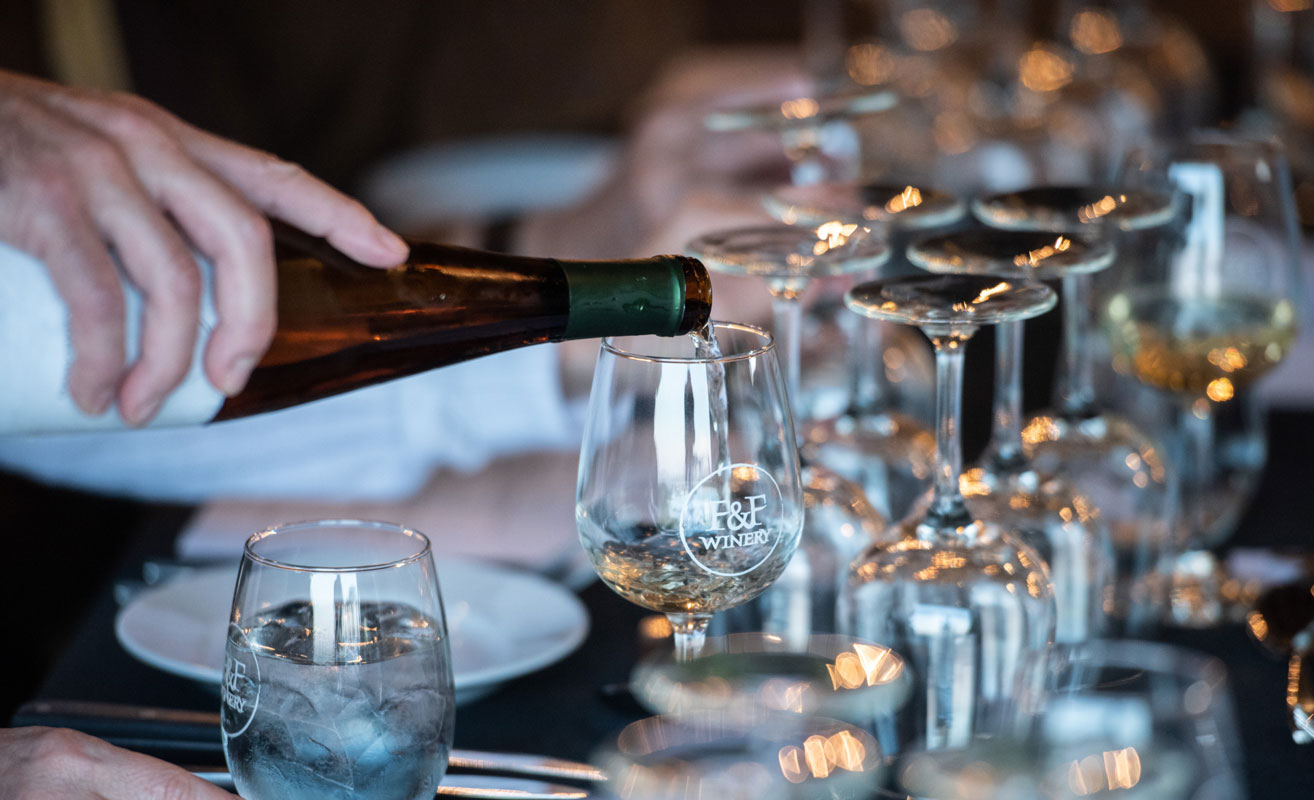 Private Dining in Our New Wine Cellar
The private space is great for small groups of up to 14 guests. It's a beautiful private room inside the winery. It includes 14 leather chairs, a stunning custom-made cedar table, and personalized service throughout the evening
There is no rental fee for the space. A non-refundable $700 down payment is required to reserve the date and time. Food and beverage expenses are deducted from the $700.
You can choose from two styles of service:
Bespoke Four-Course Chef Dinner ($75 per person) or Family Style ($55 per person)
If you aren't sure on your choice between family style or chef style service right now, that's ok, we can wait to verify this by one week before your wine cellar event. The time, guest number, and menu details will be finalized one week in advance of your wine cellar event.
HAUTE CUISINE SEASONAL FOUR COURSE CHEF EXPERIENCE $75
This menu is specially curated by our chef for your bespoke wine cellar event.
Menu details will be finalized one week in advance. Please email katy@farmerandfrenchman.com for more details.
FAMILY STYLE $55
Mama Mia! This menu features hearty Italian family recipes.  It is sure to please all with plenty to go around and share.
Garlic rolls
Charcuterie Tray
Salad
Ziti Salta Bocca
Creamy Pesto Linguine
Chicken thighs with Dijon cream sauce – side of mashed potatoes
Salmon with herb butter and  side of seasonal vegetables
Apple Tart
Mousse
Crème Brûlee
Reserve The Wine Cellar
To inquire or to book your wine cellar event please contact us below!
A $700 deposit is required to reserve the space. Food and beverage expenses will be deducted from the $700. A 20% gratuity and 6% sales tax will be added to the $700. Gratuity, tax as well as any overages in food and beverage will be presented to the event host on the night of the event. In the case that the food and beverage expense does not reach $700, guests may take food and beverage for carryout, or apply items from our gift shop.
"*" indicates required fields
Wine Cellar Features & History
Ancient Act of Meal Sharing
The simple and ancient act of sharing a meal together renews bonds, establishes trust, forges new alliances, and celebrates the union of dinner guests. "Food should be slow so that conversations linger… food without conversation isn't a meal," says Hubert. The setting of the meal is just as important as the food. Light the candles, pull out the best china, dress up for one another. Farmer and Frenchman is excited to present the perfect intimate setting to share a meal, our new wine cellar open for private dining events.
Grand Opening of the Wine Cellar
After months of design, collaboration, and construction our brand new wine cellar opened on February 5th, 2021. The private wine cellar features a repurposed bank vault door, brass accents from Churchill Downs, hand made doors and cedar table.
Vault Door and Frame: Source-Owensboro Wagon Company 1883-1951
The door and frame were acquired from James Yeiser of Owensboro. Jim demolished the building in 1999. The vault door and frame were salvaged and stored until now repurposed in our Room to secure renown vintages from the world over.
Table
Proudly fabricated by our own team of craftsmen. The wood top is "Thuja occidentalis" – Eastern White Cedar, arborvitae. The name arborvitae or "tree of life" dates from the 16th century when the French explorer Jacques Cartier learned medicinal uses of the foliage of the trees from the Indians. The cedar was harvested from central Kentucky. The top is anchored to the custom fabricated steel tube legs procured locally from John Daly Surplus.
Entry Doors
The grand entry doors are custom hand built by local master wood craftsman Richard Shoulders. The wood rails and stile are fabricated from a salvaged barn, circa 1850. The infill panels are original pine bead board, salvaged from another turn of the century home's front porch ceiling. The walnut pegs are contemporary dowel rods. The brass push plates on the doors were salvaged from Church Hill Downs, during their last major renovation 2014.
Mirror
The mirror is a replica of the many Versailles French period themed furnishings of Miami's Fontainebleau prior to the major renovation of 2005.
Dark Wainscot, Black Trim, and Appointments
Designed and decorated to recreate the mood and feel reminiscent of the vaunted Board Rooms where million-dollar deals are made and confirmed with rare wines and only the finest foods.