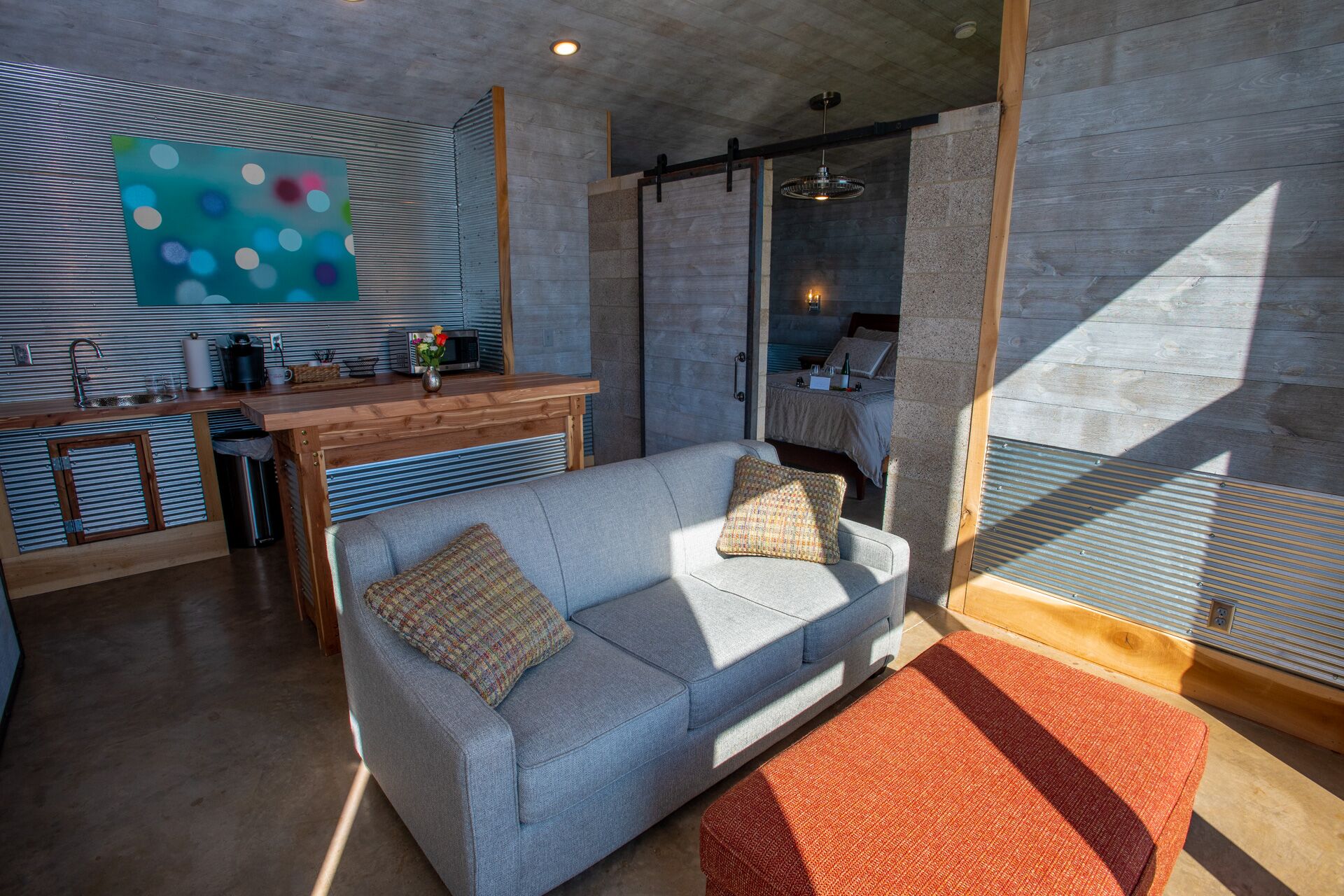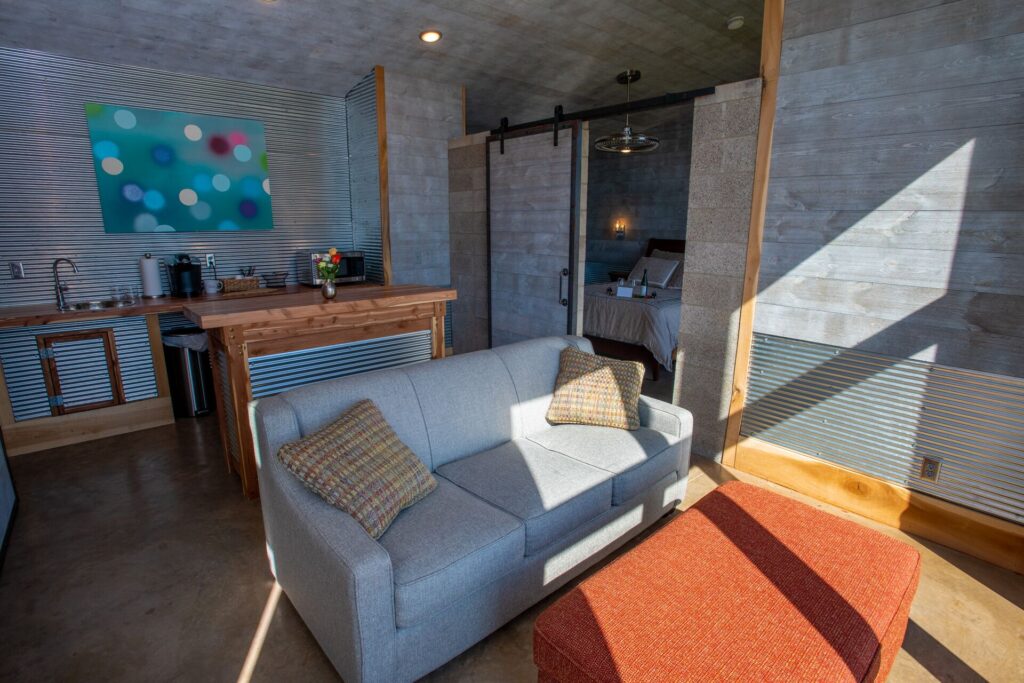 On a vineyard in Western Kentucky sits private guest cabins that overlook gorgeous farmlands. Farmer and Frenchman Winery and Cafe sits within walking distance of all three cabins and guests are able to enjoy quiet escape that the cabins provide. These popular overnight cabins have been voted as one of the Best Long Weekend Getaways in Kentucky.
How many cabins are there?
There are three identical guest cabins at F&F. Cabin 1 sits closest to the winery and Cabin 3 is the furthest from the winery but still very close making it just a small stroll from the cabin to the winery. Cabin 1, 2, 3 are also known as the Roi Cabin, Dauphin Cabin, and Reine cabin respectively. The names are French for King, Prince and Queen which seems perfect for the treatment guests receive when they stay overnight at Farmer and Frenchman. Construction of the cabins began in 2018, a couple years after the beginning of Farmer and Frenchman.
Who designed the cabins and where did the inspiration come from?
Like all of F&F, cabin designs were inspired by Katy and Hubert's (owners) travels, but they wanted to keep a distinct Kentucky agrarian feel to it. Hubert was an engineer before he became a restauranteur, and Katy's dad is a designer and longtime builder. They put their heads together to come up with the look and functionality of the cabins. The vision always included stand alone units so that guests can experience the same peace and views that Katy and Hubert do.
What are the cabins' amenities?
Each cabin includes a king size bed, a queen size pullout couch and a spacious double headed walk-in shower. Four people can sleep comfortably in the cabins. The cabins are eco-friendly as they are powered by solar panels that are on the property. In the kitchenette guests can find a coffee maker, mini fridge, and a bar with stools. The cabins also feature heated floors and private patios with two chairs. Concierge services are available to help make guests' stay special and unique. Checkin is 3pm and check out is 11am.
What is there to do during my stay at Farmer and Frenchman?
As a right of passage guests must enjoy the decadent food that Farmer and Frenchman has to offer, and the wine of course. The winery's hours are Tuesday-Saturday from 12pm-9pm. Cabin guests can make reservations during these hours or order room service. While the winery and cafe is closed on Sundays and Mondays there is a limited menu that guests can order from 48 hours in advance of their stay. Guests can also request(in advance) for wine and/or flowers to be placed in the cabin in prior to their arrival.
In addition to food and wine, guests can stroll through the vineyards, visit the F&F Kitchen garden, see the chickens, and take a hike on the 2.5 mile walking trail. Guests can also schedule a vineyard tour, or any of the available wellness services such as a yoga class and massages.
Is there an option for breakfast?
Breakfast is available but it needs to be requested in advance of guests stay at Farmer and Frenchman. Breakfast can also be arranged for the days the winery is closed.
What else is there to do in Henderson, KY?
Henderson, KY is a gorgeous river town known for its nature and scenery. After exploring the grounds at F&F visitors can take a hike at John James Audubon State Park, sit in Audubon Mill Park by the river, walk around downtown and visit many shops and enjoy the iconic riverwalk. The Henderson County Tourist Commission is open to visitors and can help you plan your stay even further.
How much does it cost to stay overnight at F&F?
Rates vary slightly depending on the season and day. Weekends are usually a little more expensive than weekdays. Weekends inside the winery are also busier in general so if you would like more privacy when dining at the winery a stay on Tuesday-Thursday is a great option. The cabins start at $179 a night.
How do I book a cabin?
The cabins book very quick, especially on weekends. If you have a date in mind that you'd like to stay, it's best to book as soon as possible. Guests can book cabins directly on the Farmer and Frenchman website. All three cabins are also listed on AirBNB.
Cabin stays can also be gifted. In fact, it is a popular gift during the holidays. Cabin gift certificates are different than the winery gift certificates and they can be purchased directly online. If you are interested in adding a gift certificate for food and wine you can call 270-748-1856.
If you have any questions about the cabins at Farmer and Frenchman please feel free to reach out by calling 270-748-1856 or contacting us below.
Contact Us Page
Embedded on the Contact Us page
"*" indicates required fields