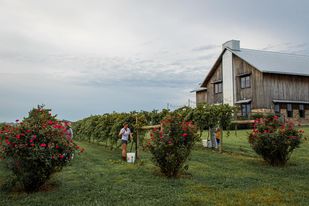 Opening in 2016, Farmer and Frenchman Winery and Cafe has grown to be a popular destination for weddings, date nights, and weekend getaways. Customers have travelled from hours away to taste the Kentucky farm fresh food with an European twist. Check out this guide before you venture to this Kentucky vineyard.
Who is the Farmer and the Frenchman?
The story of Farmer and Frenchman is not just about the union of two culinary cultures, it also a love story. The owners and operators, Katy, the farmer, and Hubert, the Frenchman, hail from different parts of the world, but their love for gastronomy and hospitality brought them together. "Food should be slow so that conversations linger… food without conversation isn't a meal," says Hubert. The setting of the meal is just as important as the food.
So the big question is how did a country girl from Kentucky meet a Parisian, and why in the world did he move to backwoods Kentucky? Hubert was living in Miami – following in the footsteps of his restauranteur father. His career started in Paris as an engineer, but he soon left that profession to follow his father's legacy and opened a small restaurant in Miami. Katy was working on her PHD research in Anthropology – studying food and politics in South Florida. On a chance encounter they met and fell in love! They took full advantage of touring and studying and conducting participant observation on all things culinary. Katy explained, "We were lucky enough to be around famous chefs, and brand ambassadors for renowned wineries. Hubert had connections with the French Expat culture of Miami, and in this little enclave we learned so much about wine and food. I didn't know it at the time, but I was learning these invaluable lessons that serve me today with my own restaurant. I just thought we were having a magnificent time dating!"
After over a decade in Miami, Hubert was ready for a simpler, slower paced life. Katy never imagined that her globetrotting Parisian would want to move to her hometown, Henderson, Kentucky. "You'd never believe that life on the beach and the glamour of the city would grow old, but there is a charm that Kentucky has that we (Kentuckians) take for granted. To Hubert, our little town is exotic, " Katy reflected.
In France, owning a vineyard and winery is nearly impossible without immense wealth or centuries of inheritance. Kenutcky has a rich history of wineries (being the location of the first commercial winery in the US), and there is much opportunity to create a vineyard and winery from scratch. Hubert first saw the farm when his in-laws took him to visit the family farm outside of Henderson. Located on a highway, it was easily accessed although secluded. Most importantly was the 1940 barn constructed by Katy's great grandfather that was still standing. His vision spread from there. The barn was rehabbed and became the center point of Farmer and Frenchman. The vineyard was planted, the winery café, and guest cabins grew from there. From 2016 to 2020 they've grown from a family only operation of 6 people to 36 team members. They've hosted hundreds of weddings, and cater to café customers from across the region.
Where is Farmer and Frenchman?
Farmer and Frenchman resides in Henderson County, Kentucky in a small town called Robards. The winery is nestled just 10 minutes outside of the city limits Henderson, KY along beautiful countryside. The quiet environment outside of the city creates a romantic and peaceful atmosphere for guests. For those unfamiliar with Henderson, Kentucky it's located on the Ohio River right across from Evansville, IN.
The winery prides itself on its central location in Western Kentucky. F&F is located about 2-3 hours from the following metropolitan areas: Nashville, TN; Louisville, KY; Lexington, KY; Cincinnati, OH, St. Louis, MS; Indianapolis, IN.
For those looking for more than a day trip, Farmer and Frenchman has three identical private guest cabins that provide exquisite lodging at the vineyard. In fact, F&F Winery was voted Third Place Winner for The Best Long Weekend Getaway in 2020 by Kentucky Living's Best In Kentucky Contest.
What's on the F&F Menu?
The menu is straightforward: continental French and Italian classics with local ingredients. Many of the dishes feature local produce from just a few miles away, and some straight from the F&F garden.
Hubert's ancestry is Italian, although he was born and raised in Paris. "You can't go wrong with that kind of culinary background" says Katy. When asked to describe what dish she fell in love with Hubert over, she answers, "Champagne and caviar!" Hubert laughs, and says "you didn't try that until years after we met, you didn't love me until then, what about your first macaron from Paris with me?"
Today, Katy and Hubert love when customers explore the French Quarter section of the dinner menu featuring Beef Bourguignon, Duck Confit, Chicken Chasseur and Pork Chop la Moutarde. These four classic French dishes follow recipes rooting from Hubert's family. Their personal favorite to cook together is the Beef Bourguignon- raised beef short-ribs, with plenty of red burgundy wine, with mushrooms and potatoes. A good rule of thumb is pair with the same wine that you cooked with.
Farmer and Frenchman also has delicious dinner specials every night that are hand curated by the chef and kitchen team. The chef plans the specials based on the freshest highest quality ingredients available at that time and are announced daily. Guests are encouraged to call around 3:30 pm to inquire about daily specials.
A new addition is the family style specials menu for carry out orders. While the entire regular lunch and dinner menu is available for carry-out, F&F created family style portions available for curbside pickup. This menu with large portions and great prices came about amidst the COVID-19 pandemic when Kentucky state guidelines closed indoor dining in 2020. When restaurants were able to reopen F&F chose to continue serving the popular Family Style Special Carry Out Menu.
What is there to do at Farmer and Frenchman?
Eat. Taste. Stay. Celebrate. Katy and Hubert have worked immensely hard to create a captivating experience at F&F. In addition to the decadent food, F&F has an extensive wine collection. Guests are introduced to not only Kentucky Farmer and Frenchman wines, but high class wines from around the world. Even if you aren't a wine lover, the restaurant also has domestic beers and fan favorite cocktails. Some of the most popular wines are the F&F Blueberry, F&F Blackberry, Dressed Up Farm Girl White and F&F Special Reserve Blend.
Secondly, guests are now able to stay overnight in our solar powered cabins. Each cabin has a king sized bed, pull-out couch, mini fridge, microwave, coffee maker, and walk in shower. The cabins have complimentary WiFi and guests can schedule massages, vineyard tours and order room service or dine in the cafe. The 3.5 mile walking trail is also frequently enjoyed by cabin guests along with the front patio that overlooks miles of farmland and gorgeous countryside.
You may have seen pictures of wedding parties in the vineyards and that's because F&F is one of the most gorgeous wedding venues in the area. The vineyards are strategically planted to provide the perfect setting for an outdoor wedding and the renovated temperature controlled barn creates the most romantic scene for the reception. F&F provides the catering, tables, chairs, and wedding planning advice.
Katy and Hubert both love hosting special events as well. One of the most popular events is Sunday Brunch. Sunday Brunch happens about once a month and includes a 4 course meal and a Mimosa or Bloody Mary. Katy, the beloved farm girl, enjoys the opportunity to get dressed up for one of F&F's more elegant events, Wine Pairing Dinners. These dinners include a 5 course meal with high end wine pairings which are talked about throughout the meal. Other events held in the past include New Year's Eve Celebration, Valentines Day Dinner, Mother's Day Brunch and Trivia Nights.Special events are always announced on Facebook and Instagram and through F&F's e-newsletter.
How Can I Make Reservations?
Because F&F follows social distancing guidelines, it is very important to make reservations. F&F has seating inside the winery, on the promenade, in the barn, and on the deck. This summer F&F is building a retractable roof so guests can enjoy outdoor dining on the deck even on rainy days. To make reservations call or text 270-748-1856.
If you are interested in a private dining experience, F&F has a brand new private room called the Wine Cellar. It is the perfect space for private birthday parties, work celebrations, family outings, and any other intimate celebration. Guests in the wine cellar get a personalized experience like no other.
Got questions about Farmer and Frenchman? Contact us!
[formidable id="8″]