At Farmer and Frenchman, we are always striving to grow, learn, change and serve our community better. We have combined our creative minds and talent from the chef and his team to add some new menu items for Winter 2021-2022. While you fan favorites are here to stay, there are new appetizers, a new pizza, new sandwiches, and new Italian and French entrees that we are thrilled for you to try!
Many customers have asked for gluten free options and we recommend talking to your server but many of the French Quarter menu items do not contain gluten. We do prepare them in the same kitchen so please keep that in mind.
Make sure to check out both our new lunch menu and dinner menu. Some menu items are only available during lunch or dinner.
New Appetizers
On both the lunch and dinner menu, we have introduced 3 new small bites.
1.) Marinated Olives– Kalamata, green spanish, castelvetrano, marinated in olive oil, rosemary, orange zest
2.) Mussels & Clams Meunière– Steamed with white wine, butter, garlic, shallot, & parsley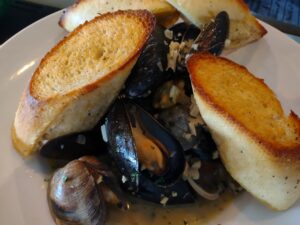 3.) Shrimp Scampi– Six jumbo white shrimps, butter, garlic, lemon, white wine, parsley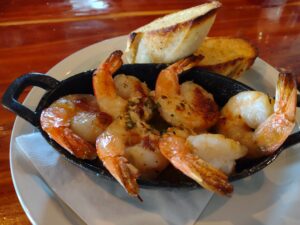 Pizza
Available during lunch and dinner is our new delicious Braised Beef Pizza. This pizza like all of our pizzas is made with our in-house homemade dough. It is then topped with beef, bacon, onion, mushroom, and mozzarella cheese.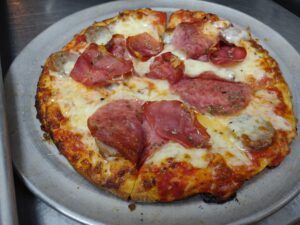 Sandwiches On the Lunch Menu
We are so excited to present a new F&F burger during lunch. This burger is made with American wagyu, and topped with provolone, bacon, pickle, onion, F&F sauce, all on a brioche bun. Served with fries.
New Dinner Menu Entrees
1.)Linguini– Our Linguini is available on both lunch and dinner menus. This is a build your own style item where you get to pick from your choice of fresh tomato/garlic/oil sauce, Alfredo, or pesto sauce and top it with your choice of chicken, sausage or shrimp. Our new Alfredo sauce is to die for.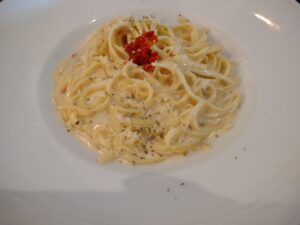 2.) Chicken Scapariello– Pieces of chicken on the bone in a garlic white wine sauce with mild sausage, kalamata olive, pepperoncini & light spice over ziti pasta. This item is also available during both lunch and dinner.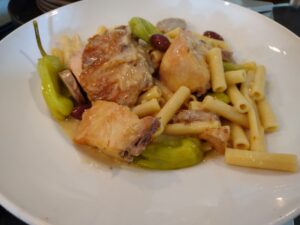 3.) Pescatore– This is for our seafood lovers. Clams, mussels, calamari, shrimp, bay scallops, cobia, over linguini with your choice of white or red seafood sauce.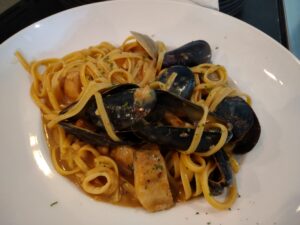 4.) Beef Bourguignon– It's back! Beef Bourguignon was one of our very original French Quarter menu items. After a small break from the menu it has returned.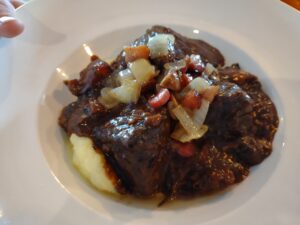 5.) Roasted Chicken– This is one of our team favorites! Half chicken, garlic & herb jus, mashed potatoes.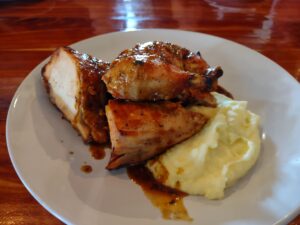 6.) Pork Shank– Slow cooked in rosemary, garlic and demi-glace, served over french navy beans.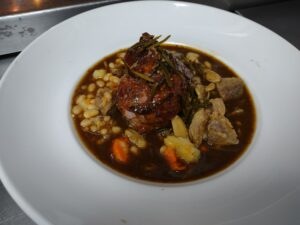 7.) Seared Salmon– Verlasso salmon over rice pilaf with lemon caper sauce.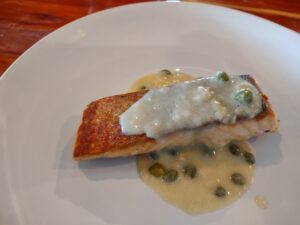 8.) Steak Frites– Finally a steak permanently on the menu! We know many of you will celebrate about this 12 oz New York strip, bourbon peppercorn demi-glace, and steak fries.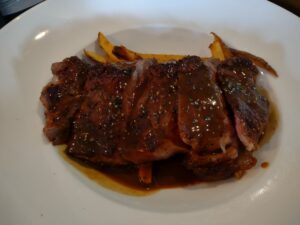 9.) F&F Rosti– Julienned potatoes, carrots, onions, garlic, turnips and spinach roasted with tomato coulis.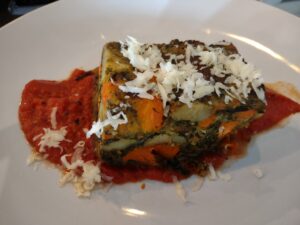 To make reservations please text or call the winery at 270-748-1856. We look forward to having you.