At Farmer and Frenchman, we are always striving to grow, learn, change and serve our community better. We have combined our creative minds and talent from the chef and his team to add some new menu items for Winter 2022-2023. While you fan favorites are here to stay, there are a couple new appetizers, a new pizza, new sandwich, and new Italian and French entrees that we are thrilled for you to try!
Many customers have asked for gluten free options and we recommend talking to your server but many of the French Quarter menu items do not contain gluten. We do prepare them in the same kitchen so please keep that in mind.
Make sure to check out both our new lunch menu and dinner menu. Some menu items are only available during lunch or dinner.
New Appetizers
On both the lunch and dinner menu, we have introduced two new small bites.
1.) Lobster Bisque– creamy tomato lobster bisque, topped with herbs, crouton toasts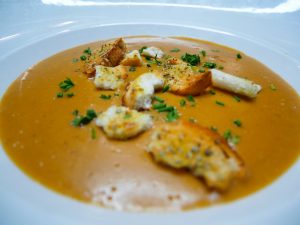 2.) Scallops Au Gratin- baked in a lobster cream sauce with fontina, parmesan, crispy bread crumb crust and crostinis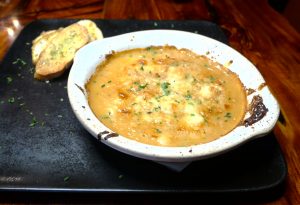 While charcuterie boards have always been on the menu and have been a staple to F&F since day 1, we have continued to enhance the quality of the boards and ingredients.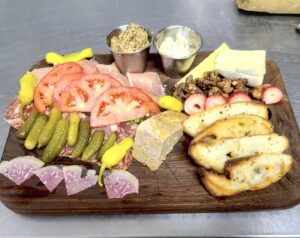 New Salad
We have added a brand new salad to both the lunch and dinner.
1.) Beet & Burrata Salad- Roasted beets with watercress, candied walnuts, dried cranberries, marinated burrata mozzarella cheese, balsamic drizzle

Pizza
Available during lunch and dinner is our new delicious Chicken and Spanish Chorizo Pizza. This pizza like all of our pizzas is made with our in-house homemade dough. It is then topped with tomato sauce, mozzarella, chicken, sliced chorizo, red onion, bacon, spinach.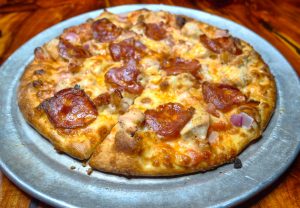 Also new to the lunch menu is Chicken Cordon Bleu Calzone. This closed pizza stuffed with chicken, mushroom, country ham, mozzarella and Alfredo is forecasted to be a new fan favorite on the lunch menu.

Sandwiches On the Lunch Menu
We are so excited to present a new Pesto Chicken Sandwich during lunch. This sandwich will include grilled chicken, artichokes, mushrooms, red onion, pesto, provolone all served on a brioche bun with truffle aioli and hand cut fries.
Here to stay on the lunch menu is the burger. This American wagyu burger comes with mushrooms, red onion, provolone, bacon, garlic aioli and served with hand cut fries.

New Lunch Menu Entree
Exclusively on our lunch menu is the new veal scallopini. This entree features 6oz veal with a cognac mushroom cream sauce over linguine.


New Dinner Menu Entrees
1.) Seafood Linguine– Also available at lunch. This is for our seafood lovers. Garlic, shallot, baby scallops, shrimp, in a lobster cream sauce over linguine and fresh watercress.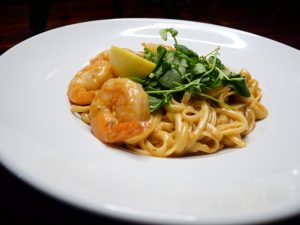 2.) Risotto– Also available at lunch. This is a wonderful option for our vegetarian customers. Seasonal vegetable risotto.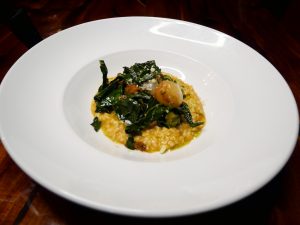 3.) Chicken Á La Moutarde– creamy dijon mushroom sauce, spinach, onion, bacon, parmesan, garlic herbed mashed potatoes and vegetables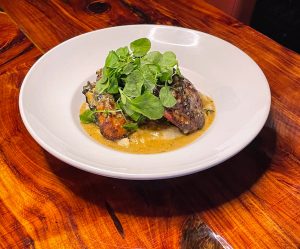 4.) Bone In Pork Shank– slow cooked pork jus, served over risotto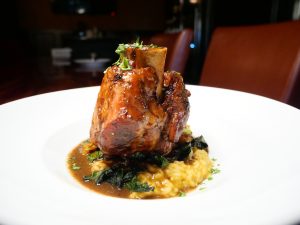 5.) Veal Á La Créme– 12 oz veal with cognac mushroom cream sauce, garlic herbed mashed potatoes, and seasonal vegetables.
6.) Salmon & Risotto- crusted with a pistachio parsley lemon zest bread crumb; served over seasonal risotto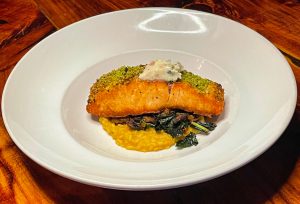 To make reservations please text or call the winery at 270-748-1856. We look forward to having you.