Our story of the Farmer and the Frenchman: Introduction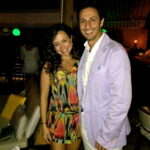 Hubert and I met in South Beach Miami in 2009. I was working on my doctorate in Medical Anthropology at the University of Alabama, and I was in Miami to do research on urban agriculture and local food movements. Hubert was born and raised in Paris, and spent every summer of his youth with his father at his restaurant in Miami. In the middle of his career as an engineer in Paris, he decided to change gears and move to the US to work with his father in the restaurant industry. In 2001 he opened Piccolo Pizza in Miami, and it's still running strong today.My first trip to Paris with Hubert was such a rush, right into the heart of the haute couture world!
After that, living in Miami was full of perks like the beach and glamorous nightlife.
Nevertheless, I am a country girl at heart. I miss the connection with nature and the feeling of community in our small town. Once I met Hubert though, I figured there was no way I'd ever be moving back to Kentucky.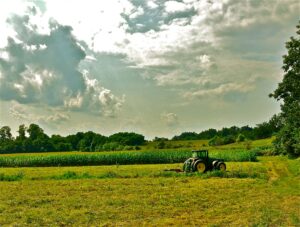 When I brought Hubert home to Henderson to meet my parents, I wasn't sure how he was going to like it. Paris and Miami people are city folks known for being particular about fashion and cuisine! To our surprise, Hubert had never felt more welcome and immediately at home as he did with my family in Henderson. He was impressed with our downtown and riverfront, the rolling hills and abundant farmland.
It wasn't until a few years later that we took him out to the family farm. I hadn't really thought about Mom's farm as a neat place for him to visit. All that was there was a dilapidated tobacco barn and agricultural fields. For Hubert, though, he saw what we had forgotten. When he learned that the barn was a relic built my great-grandfather in 1940, he was compelled to save it. Instead of a ring or a wedding he renovated our barn. Which is, in my opinion, so romantic.