For pricing inquiries, to set up a private tour of our full service facilities, or to discuss your special event plans, please contact Katy Groves-Mussat: Email katy@farmerandfrenchman.com or call 270-577-8837.
Each area of the venue – the Tobacco Barn, the Promenade, and the Vineyard Lawn – is designed to capture the essential elements of successful entertaining, including architectural scale, custom lighting, and stunning countryside views.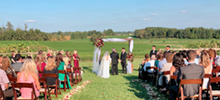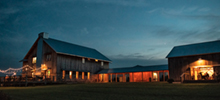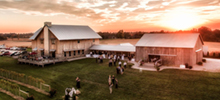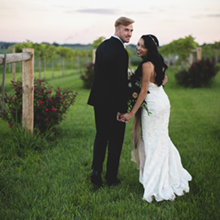 Tobacco Barn
Our 1,800 square foot space is plenty of room for up to 170 seats. For larger events, the Promenade and Vineyard Lawn can also be utilized for guest seating and activities. The two-story ceiling features three hand-wrought crystal chandeliers. The Tobacco Barn captures the charm of Kentucky agrarian roots, yet is thoroughly modernized with electricity, water, and stained concrete flooring for executing seamless events. The handmade cedar patio looks over the most dramatic view at Farmer and Frenchman – the Vineyard Lawn and 70+ acres of rolling hills, thickets, and agricultural fields. Restrooms are located next to the barn and are connected by a covered boardwalk called the Promenade.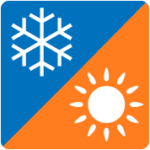 IMPORTANT NEWS — WE'RE EXCITED TO ANNOUNCE THAT THE TOBACCO BARN NOW HAS AIR CONDITIONING & HEAT!
The Promenade
The Promenade is a covered boardwalk that connects the winery, bathrooms and barn. Handcrafted of cedar, and with artisanal lighting, the Promenade is a breezy place for up to 50 guests seated at tables.
The Vineyard Lawn
We designed our vineyard envisioning the romance of saying your vows among the vines. A wide, ample row allows for seated guests and an aisle for the wedding march. The 5 acres of Lawn space can be used for your event as additional seating for your guests, dancing, or activities for little ones and the young at heart.
Pricing and Package
Please download our current pricing form here.